Team Razer 1v1 Road to Glory
June 19 2015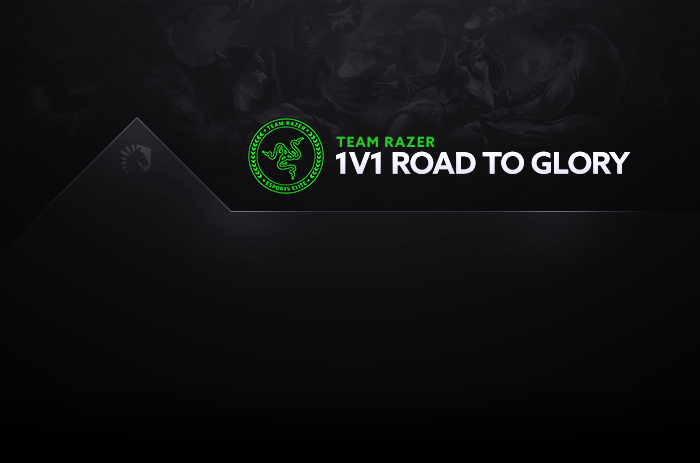 Perhaps you've been lucky enough to experience this scenario, one so often only spoken about with the hushed, reverent tones typically reserved for myths and legends: you are decimating your opponent in mid and are feeling pretty satisfied with your odds of winning your promos. Your opponent types in /all "1v1 me, BRO!". Perhaps you've witnessed this. Perhaps you have even uttered this phrase yourself (ironically, of course). Whether you have experienced this or not, Team Razer and Team Liquid want to offer you the chance to 1v1 opponents, actually and unironically, in a tournament setting. If you have ever wanted to test your skills in a 1v1 in the mid lane on Summoner's Rift, please read on for more information!


After you've battled your way through countless opponents and endured a number of hardships, what happens next? The champion of the Team Razer 1v1 Road To Glory will become an official substitute for our North American LCS team. As a member of the team, you will receive equipment that will allow you to compete at your very best. To help you along, you will participate in regular scrimmages with the Academy team. In addition, you will have access to our support staff, which includes an analyst and a coach to assist you in improving your play. And the TL swag. That's pretty nice, too.

The tournament will take place on Saturday, June 27th and Sunday, June 28th. Registration will be open from now until Friday, June 26th at 11:59pm PST. To register, click here:
Once registration is complete, the bracket will be generated. You can go here to view the brackets once they are ready:


The rules are simple: kill your opponent or their turret before they kill yours!
Win Conditions: First blood or First Turret. If neither of these conditions are met when the timer hits 20:00, then the player with the higher CS is the victor

Both players must remain in mid lane (no jungle)

Recalls are allowed

No globally banned summoner spells or champions

Each player allowed to ban 4 champions

Blind Pick Format

More detailed rules will be available to participants